5 Unique Penguins Jerseys for your Gift List…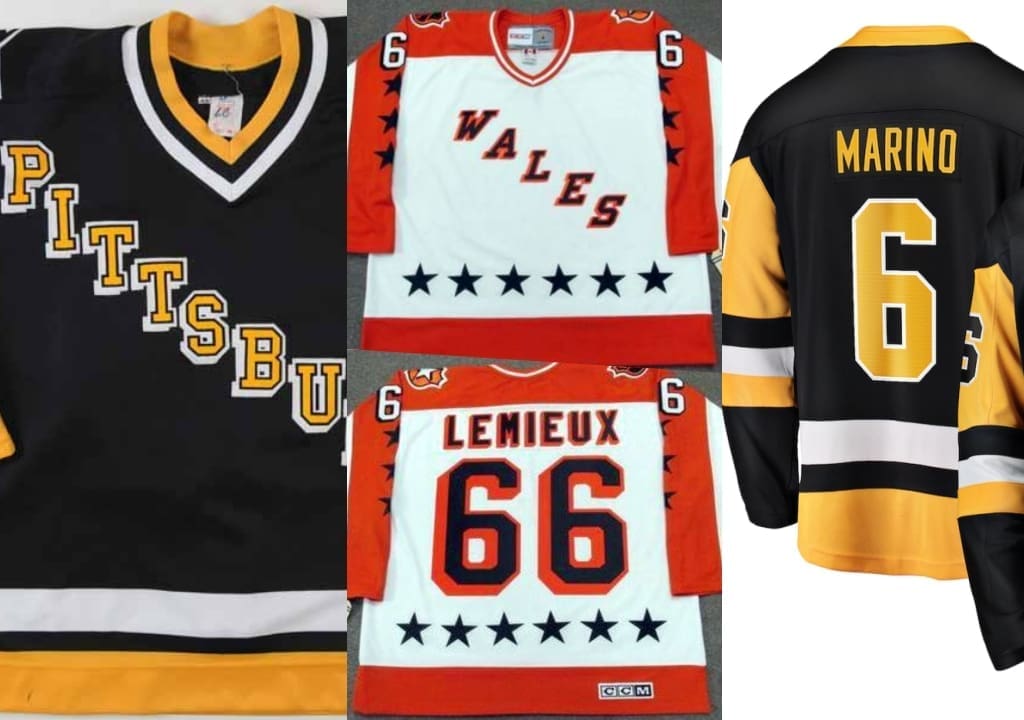 With much less fanfare, fewer obnoxious TV commercials, and relentless consumer pounding, the official start to the holiday shopping season has arrived. While many will brave the malls in search of super sales, Pittsburgh Penguins fans are known not by their name but by the name on their jersey.
So, we've scoured the web for unique Penguins jerseys to add some spice.
Hey, some people have a closet full of white shirts and suits—Penguins fans like the jerseys, or as Canadians will call them, sweaters.
Of course, if you just want a Sidney Crosby, Evgeni Malkin, Kris Letang, or even a Mario Lemieux jersey, Fanatics is having a pretty good (up to) 70% off sale — HERE. 
You can use our private coupon code for an additional 30% off: CATCH
Top 5 Unique Pittsburgh Penguins Jerseys
5.  The adidas military camo practice jersey
The authentic sweater is under $200 at Fanatics, here. The replica jerseys are much less, of course.
4. St. Paddy's Penguins
Faith and begorrah, we dig the jerseys if you need to add some color to the rotation but just don't like the mustard bottle yellow alternate jerseys. You can snag these here.
3. 1986 All-Star Game, MARIO!
Fair warning, these are the replica jerseys. After an extensive search, there are no authentics for sale. None. Given the incredible retro pull, you'll be forgiven for the CCM replica. These are pretty sweet. CustomThrowbackJerseys.com website has seven pages of sweaters, including Mario's 1987 Team Canada jersey and his Olympic sweater.
No one dominated All-Star games like Mario. No one. He alone made the game worth watching as he used the showcase to assert his dominance and tell the hockey world that Wayne Gretzky had a rival.
2. John Marino
Isn't it time we see a few Marino jerseys floating around Pittsburgh Penguins land? The young defenseman burst onto the scene and defied the odds just to make the team. Then the smooth-skating wunderkind netted Calder Trophy votes for his play after Penguins head coach Mike Sullivan firmly inserted him into the top-four.
However, a pre-made authentic adidas jersey is not yet available, so you'll have to add his name — but you'll be the first! Get them here. 
1.  By popular demand, but no licensed shops, the gold-block lettered, Gin and Juice jerseys. The NHL has not authorized a new round of manufacturing, so if you're dead set on the cool retro jersey or the robo Penguins sweater, here you go. eBay is the only spot for them. Buyer beware (I've been burned twice in my life with eBay jerseys, so always use Paypal with consumer protection!) Starter was the big jersey company back then: