Pittsburgh's Dan McCoy: Sled Hockey Star & Unstoppable Force
It's hockey. It's always been hockey, and it always will be. Sure, Dan McCoy has branched out to a dazzling – incredible, head-spinning — array of other things, but sled hockey is at the root of it all.
"It's been everything," McCoy, a Cheswick native and Fox Chapel High School graduate, said the other day. He retired from the USA Hockey sled hockey program this spring after winning a gold medal at the Sochi Paralymics and two more golds in world championships, but he still plays locally.
"Had I not gotten into adaptive sports as young as I did – I started 5 years old playing sled hockey, and I've tried every sport I could get my hands on and every sport my parents would have me play – I really don't think I'd be on the career path I am right now."
That career path already ensures that McCoy would need a copier that collates and staples and has plenty of toner to put together a comprehensive resume, one that might mention in passing that he has a physical disability – he was born with spina bifida – but would be bursting with more accomplishments and ambitions than the vast majority of 24-year-olds could wrap their video game consoles around.
Deep breath and dive in:
*McCoy graduated from Pitt with a communications degree in 2017 and this fall begins graduate school there toward a master's in health and wellness.
*He has a startup personal training business. He is ACE certified and this summer is going for certification from the National Strength and Conditioning Association. He would like to eventually open a chain of gyms in Western Pennsylvania catering to those with disabilities.
*He works at UPMC Mercy Hospital in their spina bifida clinic designing workouts for patients and will soon work at least occasionally with his older brother, Andrew, a doctor who is moving back from New York. The two are moving into an apartment on the South Side.
*He has completed the past three Pittsburgh Marathons in a hand cycle and intends to keep competing in that race.
*He has teamed with Dynamic Paddlers and coach Larry Gioia to train in paracanoe – which was introduced in 2016 in Rio — with the hope of getting to the Summer Paralympics as soon as Toyko in 2020.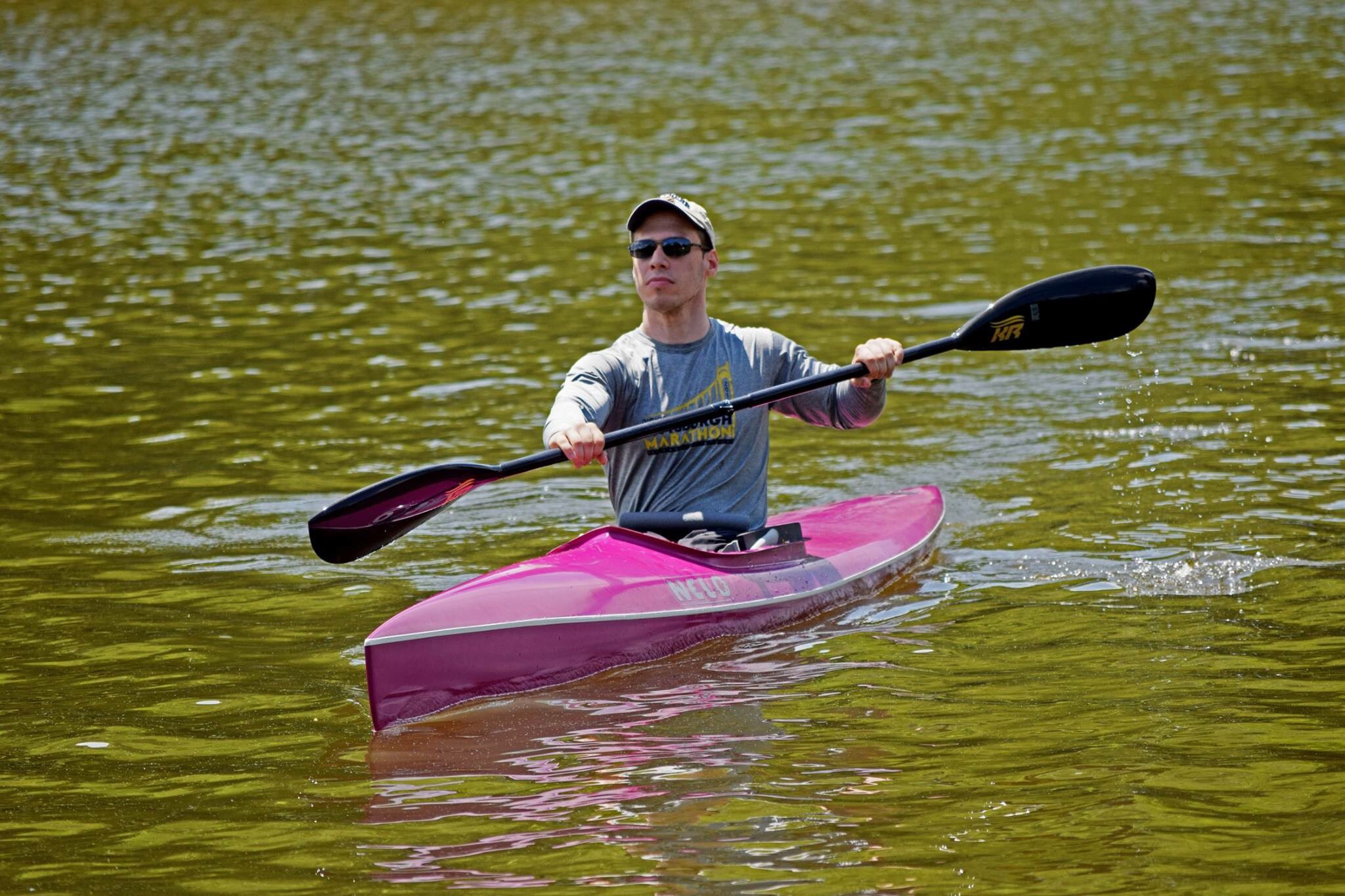 So how has your week gone? Finish that pesky assignment at work?
Training Led To His Company
The physical fitness bug bit McCoy as he matriculated through the upper levels of sled hockey, and the idea of being a personal trainer really took hold when he joined his Paralympic sled hockey teammates for training in Colorado Springs, where they worked out at the Olympic Training Center, at an ice rink, and at the National Strength and Conditioning Association headquarters – all with first-class facilities and all in close proximity to USA Hockey's headquarters.
So far, his business, Dan McCoy Fitness, has been operating within his circle of friends, family and teammates. He and the Mighty Penguins sled hockey team – he competes with them in the Northeast Sled Hockey League – hold off-ice training sessions twice a month at the UPMC Lemieux Sports Complex in Wexford, and he works one-on-one with some other sled hockey players, along with other acquaintances. It's done occasionally in clients' homes but heavily in online sessions, catered to the equipment the clients have available and their goals and abilities. He is qualified to train able-bodied clients but feels a special bond with those who are disabled.
"You have a lot of trainers out there who really understand the physiology and the anatomy of individuals with disabilities, but the mental aspect of it – just getting individuals used to training with disabilities and teaching them that they can do just as much as any able-bodied person – is just a matter of breaking that mental barrier and showing them that they can do something and they can push their body past what they think they're capable of," McCoy said. "That part of it is where I decided to become a personal trainer."
In addition to word of mouth, McCoy is relying on the internet to spread the word.
"I do have social media channels – Instagram, Facebook and Twitter. I'm most active on Instagram," he said. "As millennial as I am, the social media game could be improved. I'm trying to work on that. I am going to be starting a YouTube channel focusing on adaptive sports and training for adaptive athletes. I feel like there's a pretty solid gap in the YouTube community. Getting into adaptive sports, it's best to see the sport or see the athlete working out visually."
The handle for all his social media is @danmccoyfitness, and his website is danmccoyfitness.com. "Took me a while to come up with the name, but it just kind of came to me," he cracked.
It Starts At Home
McCoy allows that there is one larger reason for his ambition and success – his family.
His parents, Angie and Mark, are diehard Penguins fans who celebrated the 1991 and 1992 Stanley Cups and got their sons into the sport. As a toddler, Dan started going to watch Andrew, four years older, play hockey.
"I would go to his games, watching everything he was doing, and as I got more comfortable with the sport, as the younger brother, I would start criticizing what he was doing and giving him pointers," McCoy said. "I'm sure at first he didn't appreciate it, but years later as I started getting more into sled hockey, my brother – and I'm a little biased, but he's the best older brother I could ever think of having — he's really supported me in any way he could."
The same goes for Angie and Mark.
"They never really treated me like I had a disability," McCoy said. "My house is totally inaccessible to the standards of today – not dangerous or anything, but there are staircases, everything built for an able-bodied individual. Honestly, for my type of disability, I wouldn't have it any other way. It's really allowed me to see past my disability. My parents never really saw my disability. From a young age they pushed me to be the best person I could be, whether I was able to do something given my body type or not.
"I do feel very blessed and very fortunate to have the opportunities that I've had, but on the other hand you never want to be complacent and take it for granted. You always want to look back and be proud of everything that's happened, but also be looking forward and seeing how you can better yourself every day."
Almost eerily, those last couple of sentences could have come out of Sidney Crosby's mouth. The Pittsburgh Penguins superstar center has often expressed very similar sentiments about his career and accomplishments.
McCoy might not have the kind of fame and fortune Crosby has accrued, but they seem to share a work ethic and drive to succeed – and both seem to be succeeding quite well.
Testing a new movement in the gym today! Pumped for this next chapter of my fitness journey! 💪🚣 #Paracanoe #AdaptiveSports #AdaptPgh #BeDynamic#BreakBarriersBuildConfidence #Paralympics #GritBeforeGold@usparalympics @dynamicpaddlers @dickssportinggoods @acapaddlesports pic.twitter.com/pFwYyD3snF

— Dan McCoy (@DanMcCoyFitness) May 15, 2018