Dan's Daily: Flames Locker Room Confrontations; Historic Penguins Goal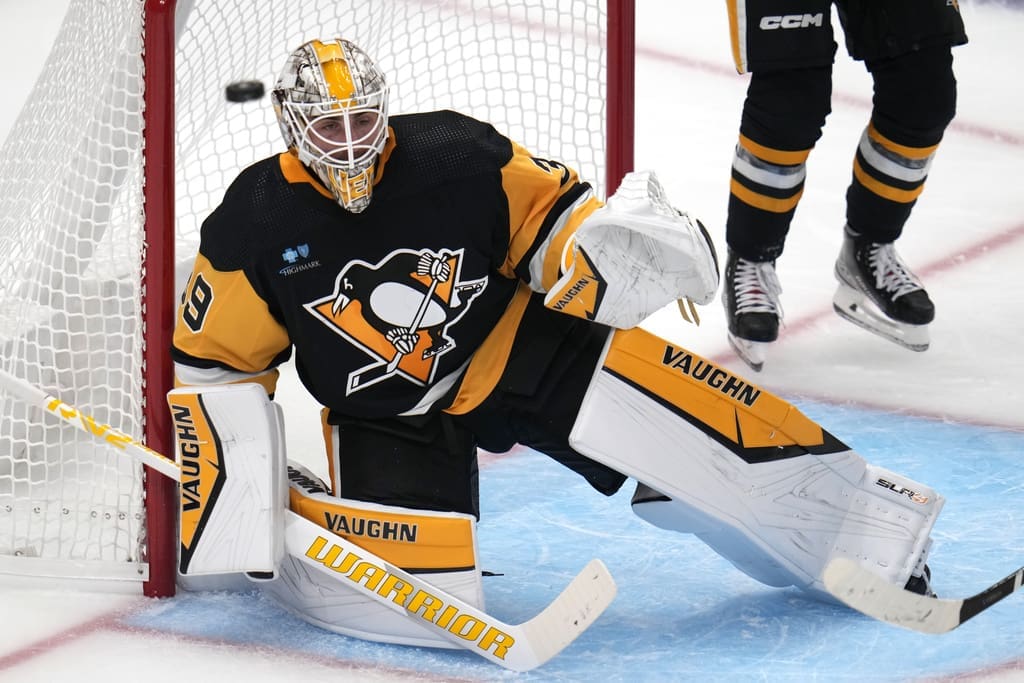 Well, hello, Alex Nedeljkovic. The Pittsburgh Penguins backup goalie made a rehab start for the WBS Penguins Friday night and promptly scored a goal, becoming the first netminder to score a second AHL goal. More seriously, the Penguins' loss to the New Jersey Devils on Thursday exposed an important ingredient that is missing from the 2023-24 Penguins. Elsewhere, the Calgary Flames had some internal confrontations and uncomfortable moments after defenseman Nikita Zadorov publicly requested a trade via his agent, and an American might become the No. 1 pick in the 2025 NHL Draft, and the Bruins are trying to shutdown the NHL trade rumors surrounding their goalies.
No cool stories from the road today. Dave is in Raleigh for an important Penguins game. Otherwise, I made our lawyer meet me for dinner at Eat 'N Park so I could have breakfast for dinner. I know, I had a wild and crazy night.
We're considering raising capital to really take National Hockey Now into the stratosphere. When the business consultant learned how large National Hockey Now has become, his eyes nearly popped out of his head. No one realizes how big we are, but we're having one minor problem. I'm a media guy, not a Wharton business school grad who knows tax structures, investment firms, or any of the jargon that goes with those folks. It's like we're speaking two different languages.
We need a much smarter CEO…
Pittsburgh Penguins
Pittsburgh Hockey Now: Alex Nedeljkovic became the first goalie to score two AHL goals. Friday night, "Ned' snapped a loose puck crease to crease and had a sweet celly, too. Check out the Penguins goalie goal.
It took me a minute to digest the game Thursday night. I took in the locker room feedback, my five pages of notes, and coach Mike Sullivan's thoughts. And then I think it came together. The loss showed the Penguins' lineup has a missing ingredient.
It's a big weekend for the Steelers. A win over Cleveland puts them at 7-3, but it would make Nedeljkovic sad. Make sure you're heading to SteelersNow.com for some deep analysis and coverage of the Steelers.
NHL Trade Talk, News & National Hockey Now
Sportsnet: Elliotte Friedman reports that things got tense on the inside after Zadorov requested a trade shortly after a loss. Most teammates didn't know it was coming, and there were some internal confrontations.
New Jersey Hockey Now: After dispatching the Penguins Thursday, there's more good news for the New Jersey Devils. Jack Hughes is back well ahead of schedule.
TSN: An American is quickly climbing the rankings for the 2025 NHL Draft and could become the top overall pick. The USNDT is developing another top player.
I think hockey bias showed when Logan Cooley wasn't the top pick in 2022. Everyone focused on Shane Wright or Juraj Slavkovsky, but a year later, is anyone in that class nearly as good as Cooley? American prospects are still just a little bit guilty until proven innocent because of our lack of hockey culture, helicopter parents, and lack of deep competition.
Maybe a few of our high schools should invest a fraction more of the time and resources into hockey as they do football, especially around here.
Sportsnet: William Nylander authored a special comeback in his homeland as the Maple Leafs swept both games in Sweden over the Red Wings, including a three-goal comeback win yesterday.
Detroit Hockey Now: Actually, this is good news for the Penguins, as any of the wild-card contenders lose a few games. The campers who wear the winged wheel are not happy. They went over for two games and lost both, despite Lucas Raymond netting a goal in each. Kevin Allen has the breakdowns and the performances of the unhappy Detroit Red Wings.
Philly Hockey Now: Marc Staal is close to returning, more players are going with neck guards, and more news in the Philadelphia Flyers notebook.
Boston Hockey Now: There has been percolating NHL trade chatter around the Bruins goalies, but did coach Jim Montgomery just slam the door on the Bruins trade rumors?