Penguins Practice Report 4/9/18: Players More Than Ready
Shelly Anderson and Matt Gajtka are at Lemieux Sports Complex for the first of two pre-series practices.
CRANBERRY TOWNSHIP, Pa. — Shelly Anderson and Matt Gajtka are at Lemieux Sports Complex for the first of two pre-series practices this week for the Penguins.
With the playoffs at hand, Pittsburgh Hockey Now will continue to have you covered with Penguins Locker Room features and anything else that comes up during player and coach media availabilities.
We'll also provide updates on line combinations and other details from practices and morning skates. Today's workout starts at 11 a.m., so look for Matt and Shelly to fill in the rest of this post right around that time!
2:45 p.m.: Got a chance to ask Sidney Crosby casually if he was OK after taking a spill in practice. He grinned and indicated he was fine. We suspected as much since he finished practice. Plus, this is the playoffs, after all.
2:40 p.m.: Here's a sampling of a couple of players' thoughts on heading into the playoffs again:
Defenseman Kris Letang, who missed all of last year's playoffs and run to the Cup because of disc surgery: "I'm pretty excited. Obviously, last year I couldn't really be a part of it. This year I have a chance again. I'll enjoy it."
Goaltender Matt Murray: "I still pinch myself almost every day that you get to be a part of something like this. It's just so exciting. It's like Christmas when you're a kid almost. You know how much fun you had watching when you were a kid. I'll bet you I'll feel like that for years and years. It's really cool that I get to be here. I'm just trying to cherish that."
Hörnqvist: "This is great. This is the best part of the season. Finally we're here. We have a really great matchup in front of us. We know all about them and they know all about us. It's going to be a hell of a series."
Jamie Oleksiak: "It's fun hockey, you know? I'm excited to be a part of it. They're always good games. There's a lot of emotion. I'm sure the fans get into it a little bit. It should be a fun experience."
1:30 p.m.: Only other news update is that Carter Rowney remains out of practice. Dominik Simon took part today, but not much formal action for him.
11:50 a.m.: After some power play vs. penalty kill, they are stretching it out at center ice. On to the dressing room … which should be rather crowded as this place is crawling with reporters and cameras.
11:40 a.m.: Tough to get a scope on if there are any changes to the defense pairings. Guys are rotating in and out, with recent scratch Matt Hunwick included in the seven-man shuffle.
11:32 a.m.: Lines! Brassard is back at third-line pivot.
Hagelin-Malkin-Hörnqvist
Guentzel-Crosby-Rust
Sheary-Brassard-Kessel
Kühnhackl-Sheahan-Jooris/Aston-Reese
11:28 a.m.: Patric Hörnqvist swatted a water bottle off the boards in front of the bench. Is it possible for him to pick up the intensity from the regular season? I'd think not.
11:20 a.m.: Crosby limps away from a collision in the corner. Appears to be laughing with Letang center ice but still a little ginger.
11:10 a.m.: No line rushes yet. A lot of uptempo end-to-end drills to get the pace at a proper level.
10:40 a.m.: Some things don't change for the playoffs. Goalies Murray and Casey DeSmith and goalie coach Mike Buckley are first on the ice.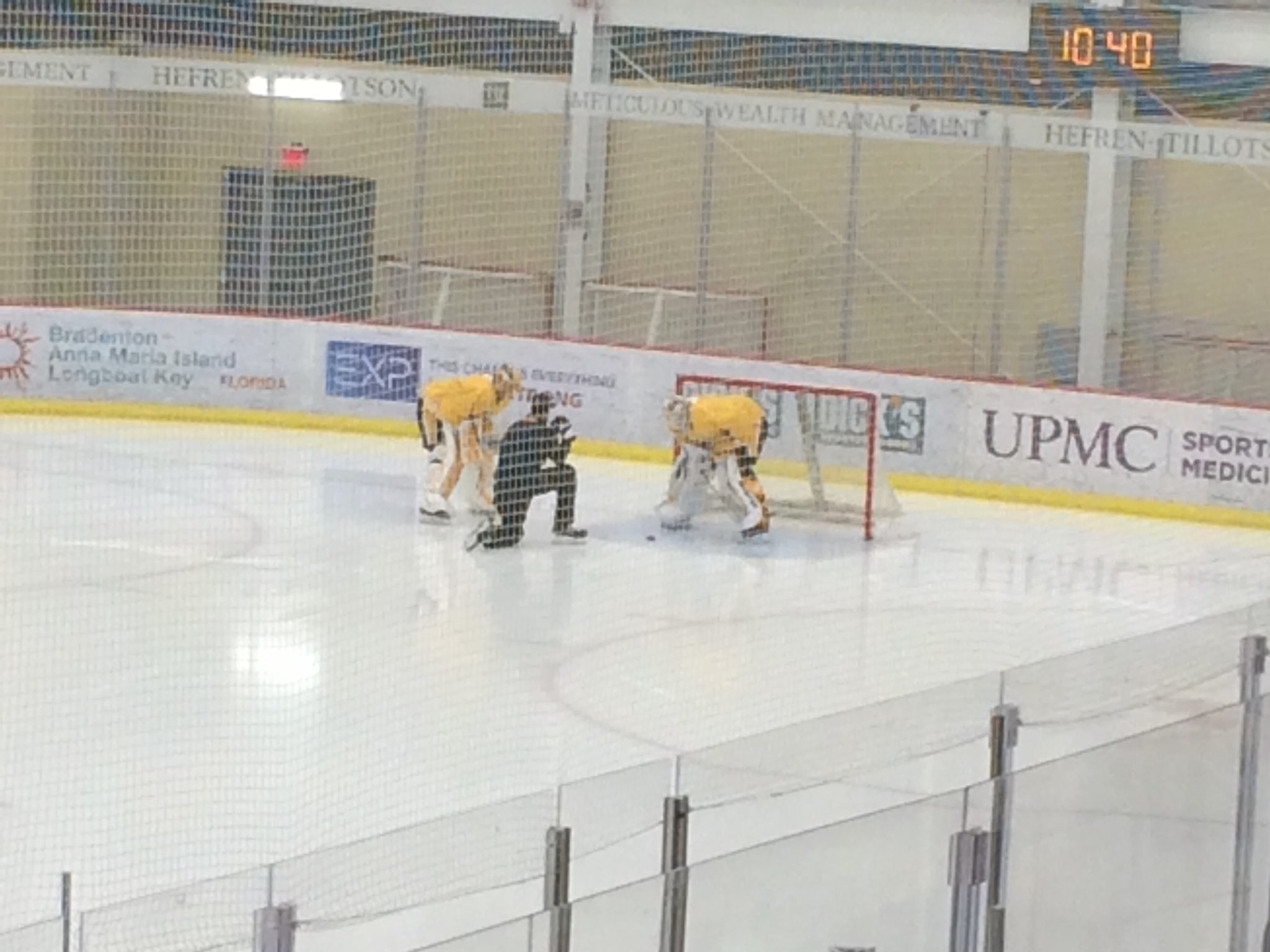 10:35 a.m.: The Penguins have announced that the outdoor big screen will return for fans outside PPG Paints Arena to watch during home playoff games. It will be in the same spot, near the intersection of Fifth and Washington.
The club also will have a party tent and DJ near the Mario Lemieux statue, and there will be food trucks along Centre Avenue. The team also is planning "gold-outs" for home games, as they have the past few playoff runs.
10:30 a.m.: With the start of the postseason comes closed practices in Cranberry. The blackout curtains are up.