Penguins Draft Potentials: Zach Benson is Small Risk, High Reward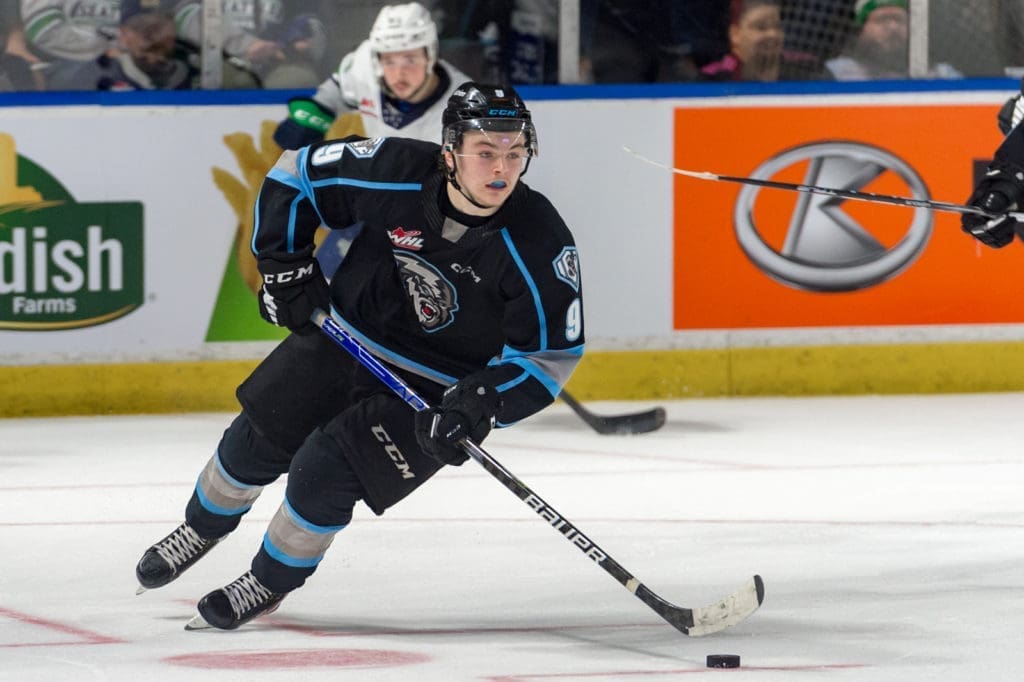 NASHVILLE, Tenn — Winnipeg Ice star player Zach Benson had so many dinners with NHL teams during the lead-up to the 2023 NHL Draft that he had a hard time remembering everyone. The small but slick skating forward with a nose for the net draws raves from scouts in several areas of his game, including defensive awareness, even as he is one of the most offensively gifted players in the 2023 NHL Draft. The NHL Draft is always full of surprises, and the Pittsburgh Penguins would probably jump quickly if Benson were still on the board when they use their 14th overall selection Wednesday night.
Benson, 18, projects both in the middle or wing, similar to Toronto Maple Leafs forward Mitch Marner, though there is a slight consensus among draftniks that he'll find an NHL home on the wing.
On Tuesday, Benson conducted his last media availability before the 2023 NHL Draft but did so with the energy and enthusiasm of someone learning to enjoy the attention.
Benson is rated no worse than 14th among the draftniks and scouting services. A few draft-specialty outlets have him as high as No. 3, though the bigger outlets have him in the back of the top 10 (No. 9 by Bob McKenzie, 14 by Craig Button).
"One person has it this way, and you look at another person, they have it that way," Benson said of his ratings. "You have to take them with a grain of salt."
However, with draft experts and hockey writers, Benson fell to the Penguins at 14 in the National Hockey Now NHL mock draft Sunday.
So, there's a chance, albeit a smaller one, that Benson is sitting on the board when Kyle Dubas and Penguins company step to the podium.
The knock in Benson is size. It's one thing to forecheck or get between the dots in juniors, at which Benson has excelled. It's an entirely different task in the NHL. The Vegas Golden Knights won the Stanley Cup with a large defensive corps, and more teams figure to follow the trend.
Though the player which Benson looks up to is Tampa Bay Lightning center Brayden Point, who is listed at 5-foot-10, 183 pounds. Point has a pair of Stanley Cup rings and led the Lightning offense this season with 82 points in 82 games.
In the tougher grind of the WHL playoffs, Benson has put up more than a point per game in the last two seasons, scoring 23 (9-14-23) and 17 points (10-7-17) in 15 games, respectively.
When the pressure was on, Benson performed. He likes that about his game, too.
"I'm a 200-foot player. Smart. I can play in any situation," Benson said. "And I kind of raise my game when it gets to that, the playoffs or the Finals time."
Smaht Scouting raved about Benson, "In terms of forwards in this entire 2023 class, no one thinks the game with and without the puck better than Zach Benson." You can read their entire report here.
Benson understands how his physical stature might play with teams. That's why he made a point to learn how to get into the dirty areas.
"I think as a smaller guy growing up. I think (I) had to learn how to get to those dirty areas and find the right spots to be in," said Benson. "So I contribute a lot of that to just (when I was) growing up, always kind of being on the smaller side."
The Penguins have shown interest in Benson. President of hockey operations Kyle Dubas led a small contingent that took Benson to dinner at the NHL Draft Combine.
However, the Penguins were just one of many teams to spend time with Benson. As his father confirmed, there's been a lot. And that only speaks to the attractiveness of his game.
Benson also shares an odd connection with this writer. Benson also lived and worked with his grandfather every summer, making donuts at carnivals and fairs (I made funnel cakes). It's a hard life requiring discipline to work through hot days away from home while your friends enjoy summer with the usual teenage activities. Anything he needs to know about life, he's already learned. He gave a surprised smile when I mentioned our shared upbringing.
"Yeah, work ethic," he said with an acknowledging grin.
Neither of us has met any others who have shared the experience. And if he can survive a hot summer with a hard-working grandfather while living in an RV together, teams will never need to question his work ethic or toughness.