Kingerski: Keep Him Around, Rodrigues Seizing Opportunity…Again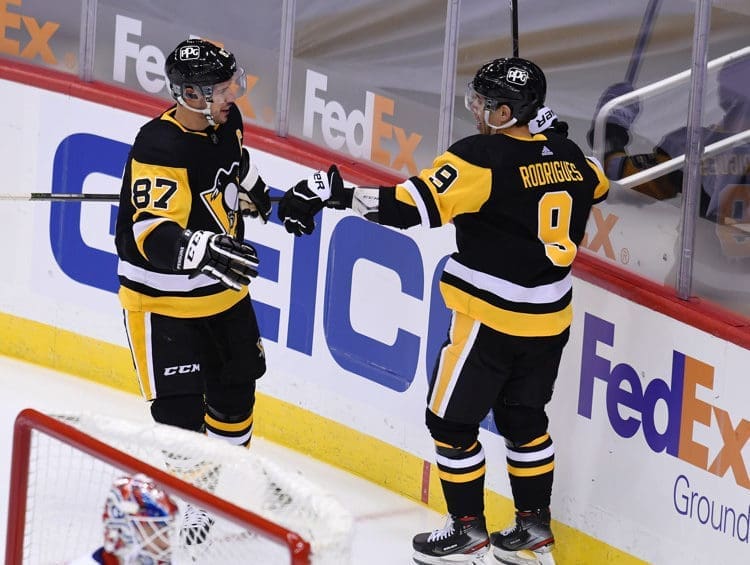 On Monday, Pittsburgh Penguins coaches decided to practice, presumably to get recently activated Kasperi Kapanen on the ice with Sidney Crosby. In the process, they demoted winger Evan Rodrigues to the fourth line LW, where he swapped ice with Sam Lafferty during drills.
Rodrigues isn't a first line player, but after seven games last season and three games this season, one thing has become clear. The Penguins benefit from Rodrigues in the lineup.
I asked Rodrigues on Sunday how important to him is the latest opportunity to stick in the NHL. Now, I don't know Evan Rodrigues well enough to know if I would have received a different answer in person, rather than the answer I got from Rodrigues sitting at a media table staring at a camera in the Pittsburgh Penguins hockey ops room doing a postgame WebEx.
It's no matter how he answered my question. On the ice, Rodrigues is seizing his opportunity to be a part of the Penguins lineup.
For semantics, would this be his second or third NHL chance?
The backstory on Rodrigues is one of perseverance. Rodrigues, 27, was undrafted after a couple of years in minor junior hockey and four years at Boston University.
In his senior season (2014-15), Howard Stern's alma mater paired Rodrigues with some freshman named Jack Eichel. Together, Rodrigues and Eichel torched Hockey East, and Rodrigues scored 21 goals and 61 points in just 41 games.
However, Rodrigues didn't catch on with an NHL team right away. In fact, the profile photo on his Wikipedia page still shows him in a Rochester Amerks of the AHL sweater. After shuttling between Rochester and Buffalo for three seasons, Rodrigues stuck with Buffalo full time in 2018-19 and scored 29 points (9g, 20a).
Last season Rodrigues became disgruntled with his light usage by new Buffalo bench boss Ralph Kreuger and asked for a trade. It finally came to fruition at the NHL trade deadline when the Pittsburgh Penguins took him as the throw-in as the Penguins swapped Dominik Kahun for Conor Sheary.
Rodrigues, who can play all three forward positions, shuffled around the Penguins lineup and was a healthy scratch against the Washington Capitals on March 7.
"(Head coach Mike Sullivan) just told me I was playing well and that Washington was a big physical team. And, he thought the lineup that he was going with would respond to that," Rodrigues admitted last March. "He just told me to keep my confidence, and I was playing well. When I got back in, I just continued to play my game, and I think I've done that."
Rodrigues did do that. He was the best Penguins player the following night against Carolina. And one of the best two days later in New Jersey. He scored his first Penguins goal and was a spark plug.
Last March, with Rodrigues on the ice, the Penguins had a 63% Corsi, a 62% expected goals-for ratio, and a 61% scoring chance rate. They also had 75% of the high-danger chances. All stats courtesy of NaturalStatTrick.com. 
Even after a dynamic training camp 2.0 last July, Rodrigues was a healthy scratch for all four Penguins postseason games against the Montreal Canadiens.
This offseason, Kahun left Buffalo via free agency, just as the Penguins didn't seriously court Sheary. Rodrigues found his way back to Pittsburgh after being traded to Toronto in the Kasperi Kapanen deal. Still, Toronto didn't Qualify the RFA Rodrigues, who became a UFA and signed the Penguins.
So, is it a second or third chance?
2020-21 Pittsburgh Penguins
Circumstance and happenstance have again benefitted Rodrigues. Kapanen couldn't get to the U.S. from Finland because of COVID travel restrictions, which impacted his immigration. So, Sullivan inserted Rodrigues into Kapanen's awaiting spot on the RW beside Sidney Crosby and Jake Guentzel.
"(The opportunity) is one, I guess, I'm trying to take advantage of," Rodrigues demured on Sunday. "But at the end of the day, I'm just trying to help the team win in any way possible."
The Penguins scrappy utility knife was one of the better Penguins players on Sunday and scored the game's first goal when he made a beeline for the net. Defenseman Brian Dumoulin spotted the move and snapped a pass just wide of the net so Rodrigues could get a stick or a leg on the puck…which he did.
Each game has been progressively better for Rodrigues, culminating on Sunday with a goal and a noticeable performance. Rodrigues was one of six Penguins to have three or more shot attempts and accounted for one of the nine high-danger chances.
"We had a little bit of a slow start in the first game, but the last two games, we played really well," Rodrigues said. "We created some momentum for our team."
Monday morning, Kapanen will be on the ice as the Pittsburgh Penguins hold an unscheduled practice, presumably to get Kapanen on the ice with Crosby and Guentzel.
Rodrigues will not be on the top Penguins line when Kapanen is ready, and nor should he be. But Rodrigues has shown an ability to play with the speed and tenacity the Penguins desire and the energy they need. He showed it before the pandemic pause in March, again in training camp, and on Friday and Sunday, too.
There will be a couple of spots in the Penguins lineup for Rodrigues. Sam Lafferty played just three minutes on Sunday. The fourth line RW is wide open, and a Rodrigues-Teddy Blueger combination could be the speedy annoyance that plays well.
But it doesn't really matter where Sullivan drops Rodrigues. The Penguins need energy. They certainly need the sparks. And in 10 total games with the franchise over two seasons, Rodrigues seems to be a guy who can fill some of that need.
Keep Rodrigues in the lineup. It doesn't really matter where, though on the top line is probably not the best idea.