Ryan Shea's Journey–Always So Close, Yet So Far–Could Pay Off Saturday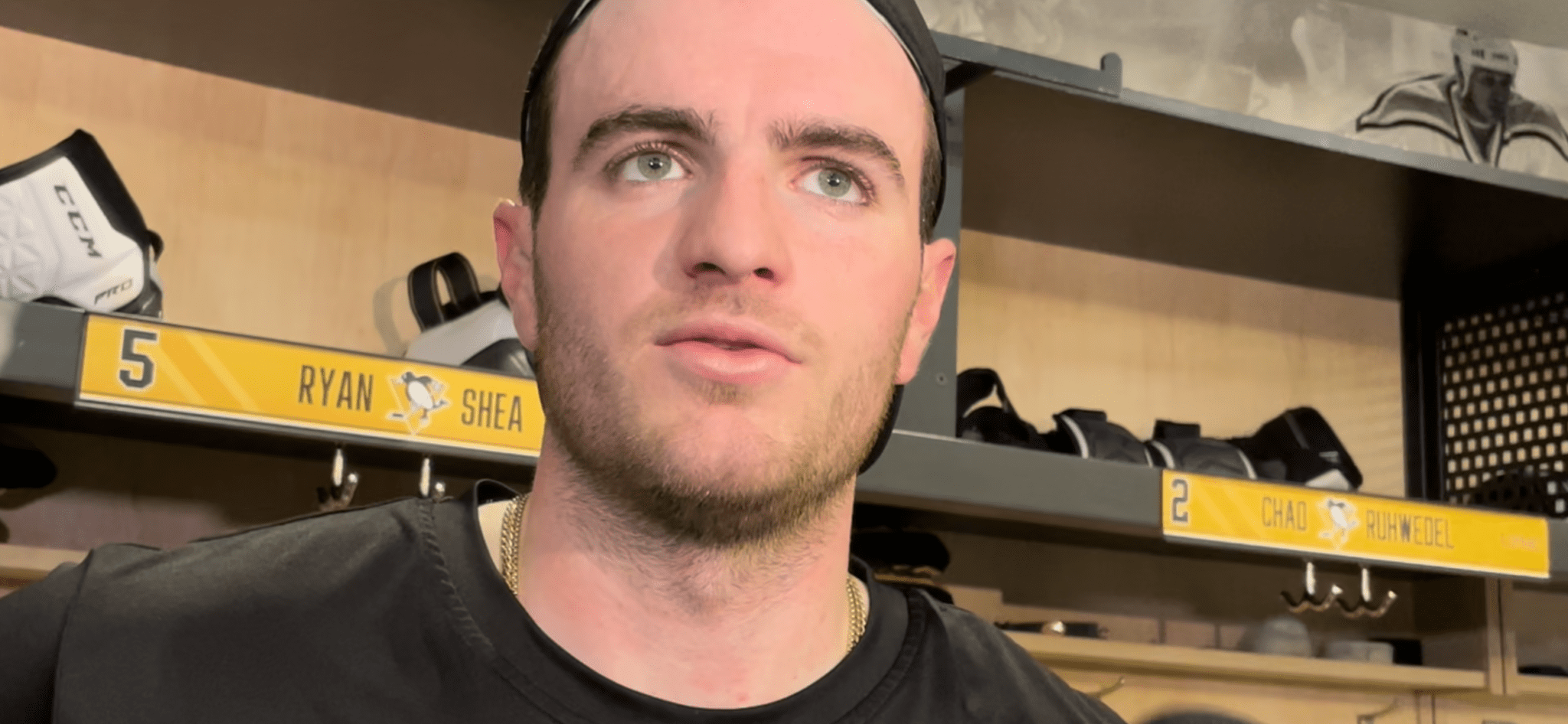 The story of Pittsburgh Penguins defenseman Ryan Shea's career – so close, and yet so far – might finally be changing, and for the better. It would seem that he has a fair chance to make his NHL debut Saturday against the Blues in St. Louis.
Shea is 26. He was a fourth-round draft pick by the Buffalo Sabres in 2015 but did not sign with them, spent four years in college hockey at Northeastern in his hometown Boston area, then spent the past three seasons with the Dallas Stars organization – hanging out a few days here and there on the NHL roster but never making it past the Texas Stars of the American Hockey League as far as game action.
Signing with the Penguins as a free agent over the summer might have seemed a little risky considering that the team was stockpiling defensemen, but it could well pay off Saturday.
"It's been good," Shea said Thursday of his time with the Penguins. "Obviously, the goal was to make the roster out of camp. That's step one of a long list of goals that I want to accomplish here. Just taking it day by day."
He has been a healthy scratch for each of the first four games, but there are a couple of things that could help change that Saturday. For one, defenseman Kris Letang has turned up with an undisclosed lower-body injury, and Shea filled in for Letang on a pairing with Ryan Graves Thursday during practice at the UPMC Lemieux Sports Complex. It's unknown whether Letang might be available to play Saturday.
In addition, the Penguins' third pairing of P.O Joseph and, in particular, Chad Ruhwedel struggled Wednesday in a 6-3 loss at Detroit, which could mean the team could make a couple performance-based changes regardless of injuries.
"It would be a dream come true. It would be great to get in the lineup, whenever that is," Shea said. "Obviously, I can't really control that. That's up to the coaches.
"I'm just appreciative and trying to do my best day in, day out. If the opportunity comes, I'll be ready. I'm ready right now."
Shea, a left-handed shot, has said he is comfortable playing either side, a versatility that could be appealing when the Penguins staff is determining its lineup.
Coach Mike Sullivan, asked about Shea on Thursday, offered this scouting report:
"Ryan is a smart player. He's very good with the puck. He's a guy who has deceptive play-making ability, helping us get out of our end zone. He defends really well with the stick. I think he's a good defender. He could potentially help us on the penalty kill. And I think his pace of play is improving with every practice that he has with us.
"We've really liked what we've seen from Ryan to this point. We'll continue to work with him moving forward."
Sullivan added that Shea is among the skaters who have turned up in conversations about which players might work their way into the lineup.
It is a long-held adage that defensemen often take longer to develop than forwards in hockey. Still, being closer to 30 than 20 could have Shea frustrated. He does not appear to be.
"I haven't been in the lineup, so it's just working hard on and off the ice," he said. "That actually has me in the gym a lot, which has been good for me. And then on the ice just working during practice, after practice. Right now, I've got to treat the practices like they're games."
During games, he said he has gone into study mode, "being a sponge."
"It helps me watching from up top. You see what plays you have more time for and what plays you don't," Shea said.
Before college, Shea spent a full season playing junior hockey in the USHL with the Youngstown Phantoms and learning remotely for his senior year of high school.
That team is in Penguins country, about an hour from the Penguins practice facility in Cranberry, and the connections were strong.
At the time, 2015-16, the Penguins were on their way to winning the Stanley Cup. And the Youngstown team was owned by former Penguins winger Troy Loney, who won Cups in 1991 and 1992, and his wife, Aafke.
Although Shea was limited to 28 games because of two broken collarbones that season, he enjoyed his time there, even playing in a USHL tournament at the Cranberry practice facility. His two favorite NHL players even before that were Penguins center Sidney Crosby and Boston's Patrice Bergeron.
Shea said Loney was a good owner — "I liked him a lot. He had team dinners at his house," he said — but Shea and his Youngstown teammates never made a pilgrimage to Pittsburgh to see a Penguins game.
"Unfortunately, in Youngstown you've got to travel quite a bit to different places, like Fargo," Shea said. "You're not really home that much, but when you are, you kind of just stay close to home because of so many games."
So during the preseason last month, Shea made it into Pittsburgh proper and PPG Paints Arena for the first time.
Here he is. So many times, so close, and yet so far.
Perhaps he will make that final big step Saturday.