(UPDATED) Penguins Call Up Goalie Prospect Joel Blomqvist; Hinostroza to Wilkes-Barre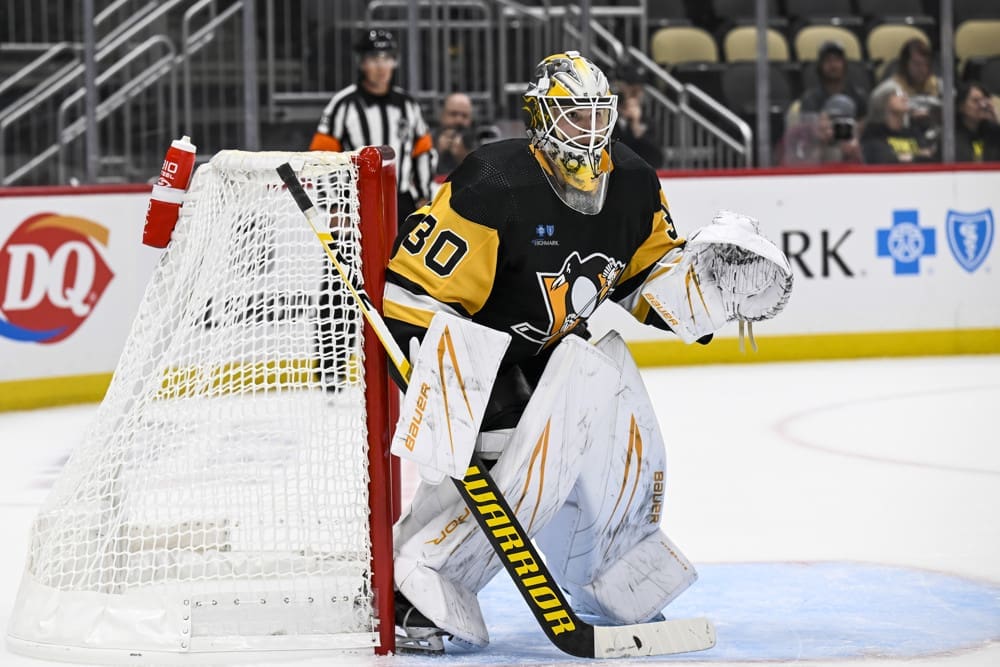 LOS ANGELES — The Pittsburgh Penguins have called up goalie Joel Blomqvist from the Wilkes-Barre/Scranton Penguins for at least their game Thursday against the Los Angeles Kings at Crypto.com Arena.
They also assigned forward Vinnie Hinostroza to Wilkes-Barre — presumably to open the salary-cap space needed to accommodate Blomqvist's contract — and placed defenseman John Ludvig on injured-reserve.
In an unrelated move, forward Andreas Johnsson cleared the unconditional waivers on which he had been placed Wednesday. His contract with the Penguins was terminated and he subsequently signed a deal with Skelleftea AIK in Sweden.
Promoting Blomqvist likely means that starting goalie Tristan Jarry will be out for at least the game Thursday, if not longer.
Jarry suffered a head injury in a potentially ugly sequence near the end of the second period against the Anaheim Ducks Tuesday. Ducks forward Adam Henrique bowled through the top of the crease, contacting Jarry's head.
In the process, Jarry's mask was dislodged just as the Ducks' Ryan Strome released a wrist shot. The puck made contact with Jarry's head or loosened mask. He suffered a laceration and immediately skated off the ice.
Coach Mike Sullivan said Wednesday that the team was awaiting word and Jarry was undergoing further examinations.
Magnus Hellberg finished the game for the Penguins, stopping all 11 shots he faced and preserving the shutout. It was Hellberg's second appearance with the Pittsburgh Penguins after starting the season with their AHL affiliate, the Wilkes-Barre/Scranton Penguins.
Hellberg was the Penguins' third goalie and has 25 games of NHL experience. He will be the Penguins' starting goalie until at least Nov. 19, when backup Alex Nedeljkovic can be activated from the long-term injured reserve list.
Joel Blomqvist, 21, who played in the preseason, has been the WB/S Penguins No. 1 goalie, starting seven of their first 10 games. Blomqvist has posted a .920 save percentage and a 1.91 goals against average.
The 6-foot-2, 187-pound netminder was the Penguins' second-round pick (52nd overall) in the 2020 NHL Draft. He made the jump to North America this season after playing in the top Finnish league over the last two seasons.