Crosby Rookie Card Going for $119,000; Sid's History in Cards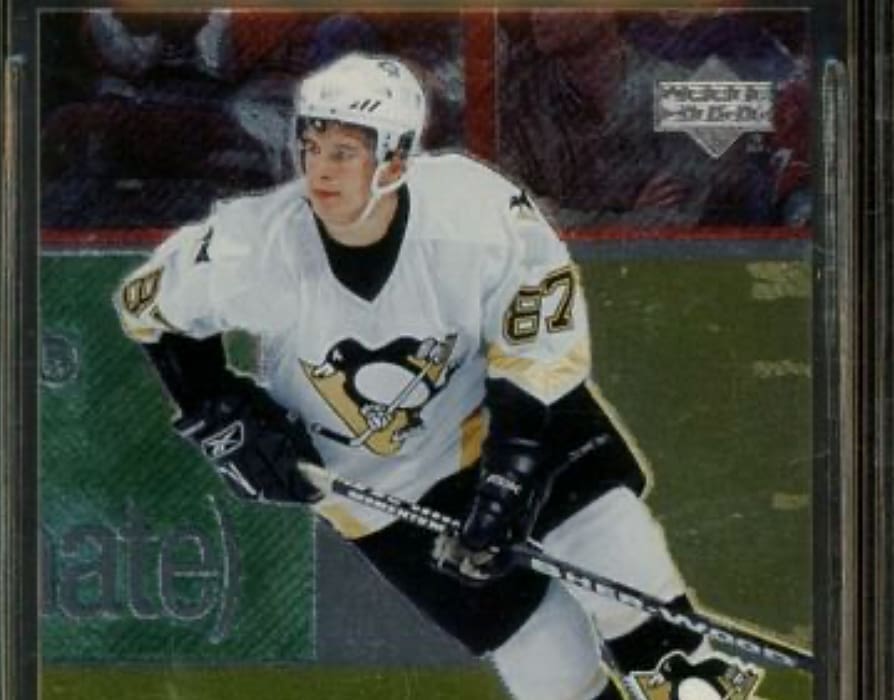 He was once "Sid the Kid" as he became the youngest captain to ever win the Stanley Cup. Sidney Crosby has endured extraordinary challenges like a misdiagnosed concussion which forced him to miss most of 18 months, and his career mirrored Penguins owner Mario Lemieux as Crosby carried barely NHL worthy linemates to career years.
PHN looks at Sidney Crosby, history as told by his hockey cards, including one going for the same price as a Rolls Royce.
Check this out:
Price: $119,000. The 2005-06 Crosby rookie card from Upper Deck is currently on eBay for the cost of an exotic sports car or an entire four-year degree. The black diamond card is graded as perfection and four times more expensive than other cards which are going for nearly $30,000.
Crosby's rookie year was marred by a horrendous Penguins team, on which nearly every veteran free agent signing was a bust and other comfortable vets hazed Crosby.
Fortunately, things would get better…
In 2006-07, the Penguins cleaned house, and Crosby and rookie Evgeni Malkin made the playoffs. In case you don't have 30k in your pants pockets, you can remember "Sid the Kid's" sophomore season for only $25-$50.
After Crosby's Penguins reversed the momentum of a few losing seasons, the Stanley Cup was on the horizon. Of course, Crosby and company lost the 2008 Stanley Cup Final to the Detroit Red Wings, but in 2009, they righted that loss.
The year also began On Jan. 1, 2009 he scored the shootout winner in the first Outdoor Classic, which was held at Ralph Wilson Stadium in Buffalo. On June 12, 2009, Crosby lifted the Stanley Cup and began writing his place in hockey history. Crosby's hockey card reflected the evolution.
That's a pretty cool card, though? It doesn't cost much if you're so inclined to find one on Ebay or one of the many card sites across the internet.
We have searched for a 2010 Team Canada Golden Goal card, but thus far come up empty. However, there are affordable prints of the massive celebration which vaulted Crosby into forever-hero status.
We couldn't find a good hockey card from the 2010 Winter Olympics, but we did find this neat Russian card on Pinterest…which looks nothing like Crosby, except for No. 87. Russian disinformation?
We kid. We kid.
Of course, after the Penguins Stanley Cup victory and the Golden Goal, there were a few years of regular-season dominance and postseason failure. However, one hockey card stands above the rest in that era.
The 2011-12 O-Pee-Chee card includes Sidney Crosby and some game show host…
You may notice over Crosby's right shoulder was Pat Sajak, who had a sense of humor about it:
"I can't believe that Sidney Crosby managed to squeeze himself onto my hockey card. Notice how he positioned his body in an attempt to block me out completely. What's with that, eh?"
Sajak was a Washington Capitals season ticket holder, but we assume he was already used to finishing second to a Canadian hero (Alex Trebek reference).
Sidney Crosby was concussed by a wicked collision with Washington Capitals forward David Stechel in the 2011 Winter Classic at Heinz Field. We'll generously call it a collision and not a blindside mack trucking. for the next season plus, Crosby's career hung in doubt. Persistent concussion symptoms kept him out of the NHL, until a specialist diagnosed the injury as a soft-tissue neck injury.
Crosby roared back in 2013-14 with 104 points in 80 games. He was no longer "Sid the Kid" but a Stanley Cup champion who fought through injury. His Panini Prizm hockey card is quite valuable. Many go for nearly $1000, however, this enterprising seller on eBay wants $87,878.78…or best offer, of course.
The Penguins and Crosby endured a few more playoff failures, went through a couple of coaches and GMs before they would again win the Stanley Cup.
The 2009 Stanley Cup banner is unique among the five Penguins championship banners as it is the only one in Vegas Gold, not the traditional bright yellow. In 2016, the Pittsburgh Penguins organization again hung the traditional, bright yellow  Penguins colors, even though that was the Penguins third-jersey.
The Penguins set a salary cap era record by being the first team to win back-to-back championships. Crosby cemented himself among the all-time greats with back-to-back wins and a third Stanley Cup ring.
If you're suddenly feeling nostalgic, you can read PHN's on-ice report from the Pittsburgh Penguins 2017 Stanley Cup victory in Nashville: A Stanley Cup: Hugs, Tears and Goodbyes.
It remains one of our most-read stories of all-time. We were new (and I was just getting the hang of writing without an editor), so it may need a little George Lucas type brush up.
Crosby, 33, is far from finished. With an extraordinary workout regimen and indomitable competitive spirit, the Penguins center figures to have several years remaining at an elite level. While PHN believes the Penguins championship window has most likely closed, perhaps Crosby has one more dramatic act remaining.
And we'll add that to the history of Sidney Crosby hockey cards…for a mere $119,878.87. Oh, and one more hockey card you may have missed. Everyone starts somewhere: