Pittsburgh Penguins 20-21 Line Projections… For Now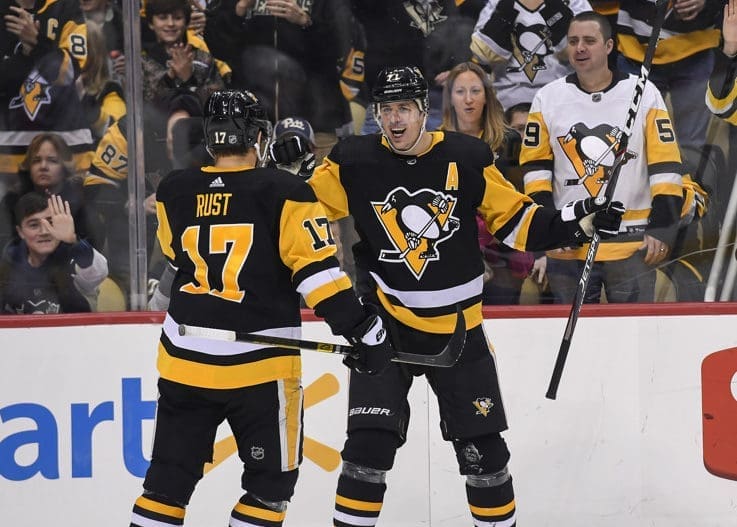 Perhaps Pittsburgh Penguins General Manager Jim Rutherford painted himself into a corner, and maybe he's merely within sight of the offseason finish line, one week ahead of the 2020 NHL Draft and free-agent frenzy. The Penguins roster has enough bodies who will be with the team next season to begin Penguins lines and lineup projections.
The good and the bad. The improvements and the questions.
The NHL buyout window begins 48 hours after the NHL awards the Stanley Cup, which could be Wednesday evening. The Penguins declined to buyout center Nick Bjugstad, and instead ate just over $2 million in salary this season, so buyouts are not likely on Rutherford's menu. Cutting through the subtle hint to counter many fan hopes, Jack Johnson will be a Penguins defenseman next season unless he is part of another trade to alleviate the crowded house on the Penguins' left side.
Zach Aston-Reese could be ready for the start of the season, depending on his recovery pace and the actual start date. Dominik Simon will not be prepared for the beginning of the season, but he also needs a contract.
"We do have two restricted free agents, (Matt) Murray and Simon, that will be tough to fit into our cap," the Penguins GM said via radio interview on Friday. "We're going to have to see where this goes in the next 10 days, as to what the possibilities are."
According to CapFriendly.com, the Penguins have about $6 million in salary-cap space remaining. First, they must sign RFA goalie Tristan Jarry, who has all but officially been anointed as the next starter. Simon and Sam Lafferty project as the Penguins 12th and 13th forwards and both should be affordable if the Penguins can spend to $81.5 million. If not, then more cuts are coming.
We're going to make a switch from conventional thinking, but we'll explain why.
Projected Pittsburgh Penguins Lines:
Jason Zucker — Sidney Crosby — Kasperi Kapanen
Jake Guentzel — Evgeni Malkin — Bryan Rust
Brandon Tanev — Jared McCann — Sam Lafferty
Zach Aston-Reese — Teddy Blueger — Colton Sceviour
Now, here's why we put Guentzel with Malkin and Zucker with Crosby. The eye tests of Zucker and Malkin together bordered on painful. The math isn't complicated, either.
Guentzel – Malkin has 4.64 goals per 60 minutes (282 minutes together). Guentzel – Crosby was only at 3.09 G/60 (252 minutes together). Stats according to NaturalStatTrick.com. So:
Guentzel/Malkin (4.64 G/60) + Zucker/Crosby (2.87) = 7.51 G/60.
The goals per 60 with that configuration far outpace the reverse. Regular season and playoffs combined, Zucker and Malkin played about 62 minutes together. They scored one goal and didn't look much better than that.
The newly acquired Kapanen is an untested variable, so things could change. And new seasons bring new chemistries, but the Penguins top-six appears to be stout. We expect Rutherford to tinker with the bottom six during training camp or early in the season as the situation becomes clear.
All stats above and below according to NaturalStatTrick.com.
Penguins Defense Pairings
Brian Dumoulin – Kris Letang
Marcus Petterson — John Marino
Mike Matheson – Jack Johnson
We put Johnson on the right side over Chad Ruhwedel, for a few reasons. First, we used history as a guide. The Penguins coaches have had multiple opportunities to insert Ruhwedel into the lineup, but have kept him in the depth defense role. For much of 2018-19, injuries cast Johnson on the right side, rather than his natural left.
However, before Penguins fans emulate the Dodo bird and line up for the cliff because of the third pair, there is hope. Matheson was a bit of a trainwreck in Florida, but he's supremely talented. According to our sister site Florida Hockey Now, when Florida signed him to an eight-year deal after his rookie season, the organization en masse felt he could surpass top defenseman Aaron Eklbad.
There's further hope for Johnson on the right side. Despite playing on his backhand, Johnson's important stats were almost exactly even when he played with Pettersson. The pair played big minutes and Johnson's goals, scoring chances, and high-danger chances were at 50%. And those stats were achieved despite starting more shifts in the defensive zone.
Ruhwedel often has excellent advanced stats, but the sheltered nature of his minutes offset the stats. Generally, Ruhwedel receives far more starts in the offensive zone, which leads to good numbers.
Regardless of who wins the RD competition, it will not be ideal.
Matheson may provide the Penguins with the additional offensive burst, which the blueline has lacked. The Penguins defensemen had a combined three points in four games against Montreal Canadiens in the Qualifying Round. However, Matheson had only 20 points (8g, 12a) in 58 games this season.
And those are the Pittsburgh Penguins lines and pairings. At least until the next Penguins trade.