Did Letang Unwittingly Predict Lingering Hangover From Last Season?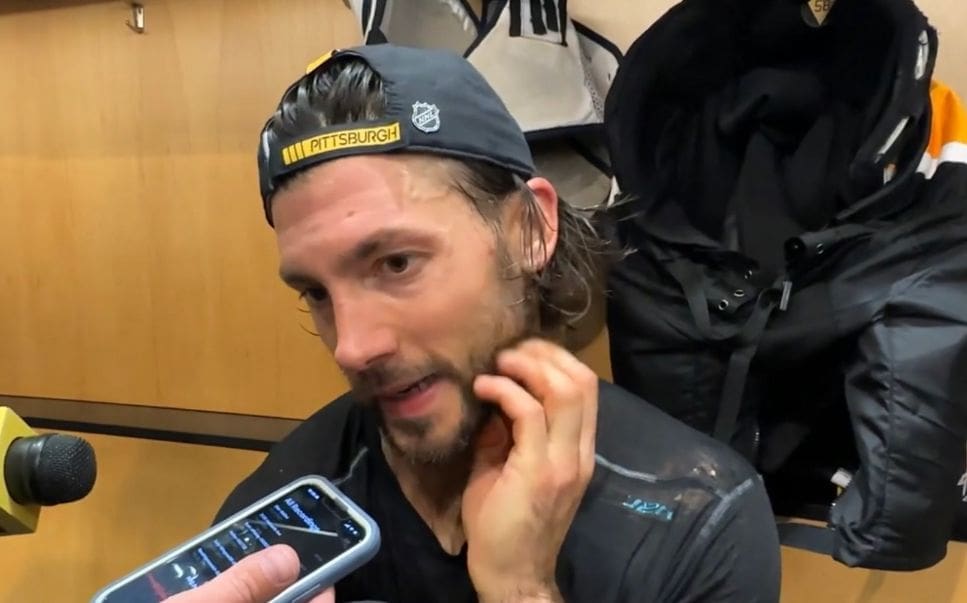 The things the Pittsburgh Penguins addressed Tuesday night after their season-opening 4-2 loss at home against the Chicago Blackhawks seemed to strike the right chord, and an all-too-familiar one. But what about defenseman Kris Letang's comments earlier in the day?
The veteran defenseman, one of the Penguins' longtime core players, offered some prescient words following the morning skate. It just might indicate that the team's foibles from last season are still stuck in at least some players' heads.
First, Letang responded to a question about the previous time the Penguins faced the Blackhawks. It was the penultimate game of last season, going against a Chicago squad vying to finish with the poorest record in the league.
That game was tied 1-1 in the third before the Blackhawks ripped off three unanswered goals in what became a 5-2 Penguins loss. They then fell in overtime against Columbus – a team in the same standings category as Chicago — in the final game and missed the playoffs by a point.
"I try to forget about it," Letang said of that costly loss to Chicago last April 11, one that helped put an end to the Pittsburgh Penguins' 16-year run of advancing to the postseason.
"It's one of those games (where) I don't think our season was based on that game. Our season was based on the fact that we were not able to close other games. We left too many points up for grabs.
"When you come down to the last three games of the season to make the playoffs, that means you did something bad during the season. I don't think about (that) game in particular. I just think overall as a team during the season we didn't do a good job."
So what did the Penguins do Tuesday in a rematch? They played too loose and blew a two-goal lead against a team in full rebuild mode. They chronicled that after the game, Letang included.
Coach Mike Sullivan went as far as pointing out that while the same gremlins from last season seemed to creep in, "This is a new year. It's a new team. There's a whole new group of players. I'd like to believe we're a better team than what we showed (Tuesday)."
It's true. First-year president of hockey operations and general manager Kyle Dubas orchestrated a large amount of turnover on the roster during the offseason, leading to a competitive training camp and a lot of preseason optimism.
And then the Penguins went out and revisited a lot of the same issues that stung them last season.
Letang, responding to another question after the morning skate, this one about lessons learned from 2022-23, addressed those very things.
"Closing games," he said. "Being able to play a tight game throughout a 60-minute time. I think it's going to be the most important (thing) for our team.
"We know we can score goals, and we know we can come back in the games, but when we have the lead and we're up by one or two, our mentality has to be stronger, better. We have to be aware of who's on the ice, time on the clock, stuff like that."
Again, that was hours before the game. Could Letang have unwittingly set up a nasty self-fulfilling prophecy for him and his teammates? Does he, subconsciously or not, worry that the team hasn't escaped last season's bugaboos?
As with the late-season loss to Chicago in April, Tuesday's loss was just one game. But it was still two missed points after a blown two-goal lead.
Perhaps all those new faces will help the Penguins pull out of those bad habits that might have followed them from last season. Perhaps it will fall more on the returning core to turn the page.
As Letang pointed out, it takes more than one game to identify a trend.
The Penguins' next game should produce as much anticipation as Tuesday's. It's on the road Friday against Alex Ovechkin and the rival Washington Capitals – a team that also failed to make the playoffs last spring, and one that will be making its season and home debut Friday.
So which Penguins' club will show up? The one with last season's grime all over it, or the one making a fresh start?