Penguins Notebook: Cookies, Nicknames, & Lineup Decisions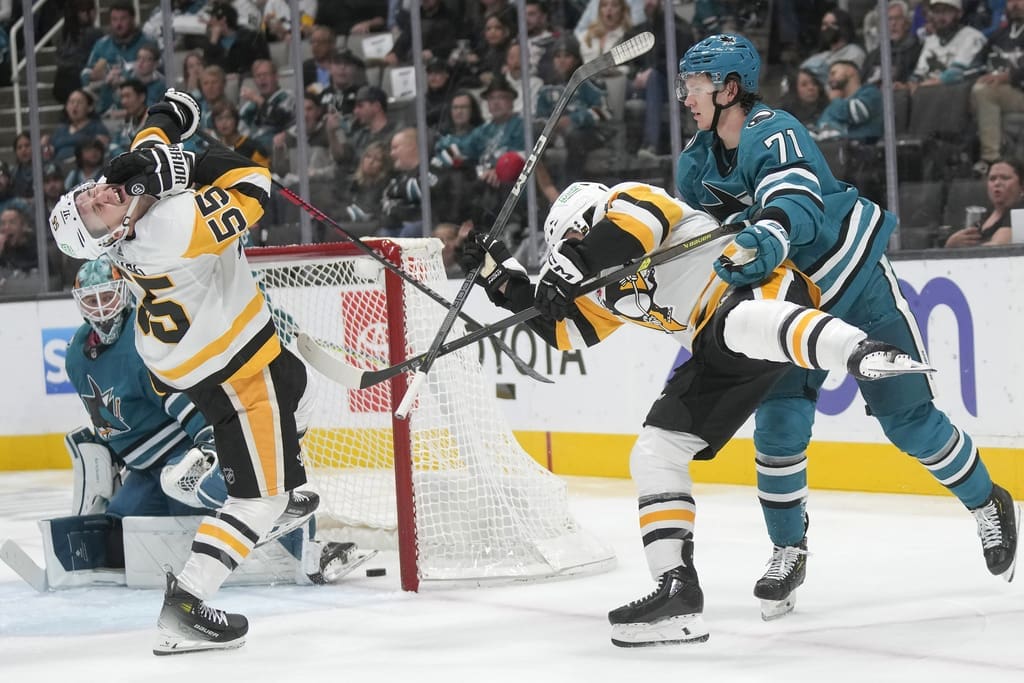 The Pittsburgh Penguins seem to have sated the angst and calmed the seas with a five-game winning streak. It has not all been pretty and exemplary 60-minute efforts, but that's part of the success of the Penguins turnaround. Just a couple of weeks ago, they were at the bottom of the Eastern Conference.
No joke, the Penguins vs. San Jose Sharks game that began the West Coast trip was a battle of last-place teams. Let that sink in for a minute.
However, the Penguins have aggressively moved to get themselves back into a playoff spot by Thanksgiving, a high-water mark that defenseman Marcus Petterson acknowledged before the team left on the California trip.
As of Thursday morning, the Penguins trail the Philadelphia Flyers by one point for the second wild card and the Carolina Hurricanes by two points for third place in the Metro Division. The Penguins have two games in hand on both, which means they also have a winning percentage advantage on both.
Their odds of being in a playoff spot by Thanksgiving look pretty good. The statistical extrapolation from Thanksgiving to the end of the NHL regular season, while not infallible, has proven fairly accurate in the salary cap era.
Kind of like corn being knee-high by the fourth of July.
Carolina did the Penguins a favor by losing to the Flyers on Wednesday. Of course, the Penguins must help themselves with points against the New Jersey Devils, Carolina, Vegas, and the New York Rangers before Turkey Day.
Penguins Nicknames
When one spends a lot of time around the team, as Pittsburgh Hockey Now has done over the last few weeks, you learn a few odd tidbits about the boys in the sweaters.
In Anaheim, we learned that backup goalie Magnus Hellberg is known as Chopper, which was derived from Copter, derived from Helicopter since it was like Hellberg.
OK, hockey nicknames aren't usually the most creative.
Last week, Penguins forward Jeff Carter offered praise for "Cookie's line."
Wait, who?
Context clues indicated he meant fourth-line center Noel Acciari, but it was the first time anyone publicly used the newbie's nickname. Monday, PHN got to the bottom of the nickname, and no, it's merely not a play on his last name.
Acciari is known as Cookie because the baked goods are a dietary staple on game day. A hotel last year knew him well enough to leave a note and a big bag of Oreos in his room. No word if they were double-stuffed or simply the traditional.
The man knows his cookies and laughed when PHN inquired if he had trouble getting cookies in Columbus.
Nope. He found an Insomnia Cookie. He also likes to take some home for his son.
However, the Penguins' pivot has only one assist in 14 games this season. Perhaps someone should invite him to a Pittsburgh wedding for the cookie table on a game day?
UPDATE: After reading our story, colleague George Richards from Florida Hockey Now passed along this anecdote. The nickname began in 2019 when there were no cookies as part of the team's pregame meal.
"I think 'Cookie' is my favorite nickname on the team,'' (former) Florida Panthers d-man Keith Yandle said at the time. "He was full-blown pissed there weren't any cookies, which I get. If that's part of your pregame ritual, you better have it. But here he is, the new guy on the team, screaming, 'Where are the cookies?!' It was great."
Acciari also went as Cookie Monster for Halloween that year. His wife dressed as a giant cookie.
It's also believed that Mark Pysyk, who was a Panthers d-man at the time, coined the name. Pysyk is currently with the WBS Penguins AHL team on a PTO.
Other new nicknames, such as Karly (Erik Karlsson) and Ned (Alex Nedeljkovic), aren't so tough to figure out.
If the Penguins have goalie meetings, those might be a roast with Hellberg and Nedeljkovic. I don't recall that much personality in goalie pads since a flower grew in the Penguins' room.
The Browns Game??
Pulling on that thread of "Ned"…
Penguins goalie Alex Nedeljkovic is from Cleveland, a fact Penguins PA announcer Ryan Mill had some fun poking at on opening night, "Welcome back to civilization…"
Some mistakenly took it as a poke at Detroit, where Nedeljkovic played the last two seasons (Trust me, Ryan saves his good chirps for me during the pregame meal. He wouldn't insult an NHL city).
Wednesday, Nedeljkovic said he was injured in the Dallas loss on Oct. 24 when he tried to play the puck but tangled with an oncoming forward. He caught his hand awkwardly. He's been on LTIR and appears to be on track for activation on Sunday.
However, Nedeljkovic might delay that timeline.
"It's the Browns game Sunday. We might have to reschedule," he said.
Nedeljkovic was seen watching practice in a Miles Garrett jersey last week. For the record, I corrected him. It's the Steelers game.
Maybe when the Browns win a few, that will change. And maybe Brian Sipe will come out of retirement, too.
Penguins Blue Line
The Penguins blue line situation is about to become a little crowded again. John Ludvig will soon report to the Wilkes-Barre/Scranton Penguins for a rehab assignment. It will last one or two games, according to coach Mike Sullivan.
When Ludvig is ready, the Penguins will need to make a personnel decision. To keep Vinnie Hinostroza or Ludvig is the most likely debate, but P.O Joseph seems well entrenched in the press box right now, too. Waiving him could be a surprise decision.
I would be shocked if Joseph could clear waivers. I'd also be a little surprised if Hinostroza came out of the lineup.
Mark Pysyk has begun his PTO stint with the WBS Penguins. He has 21 games to make or break, but also a lot of rink rust to shake free and a serious injury to overcome. It will be a while before we know if he's able to do either.
Unless the Pittsburgh Penguins suffer another injury in the next week, it will be decision time again.