Penguins Room: Costly Mistakes? The Devils Made Them Do It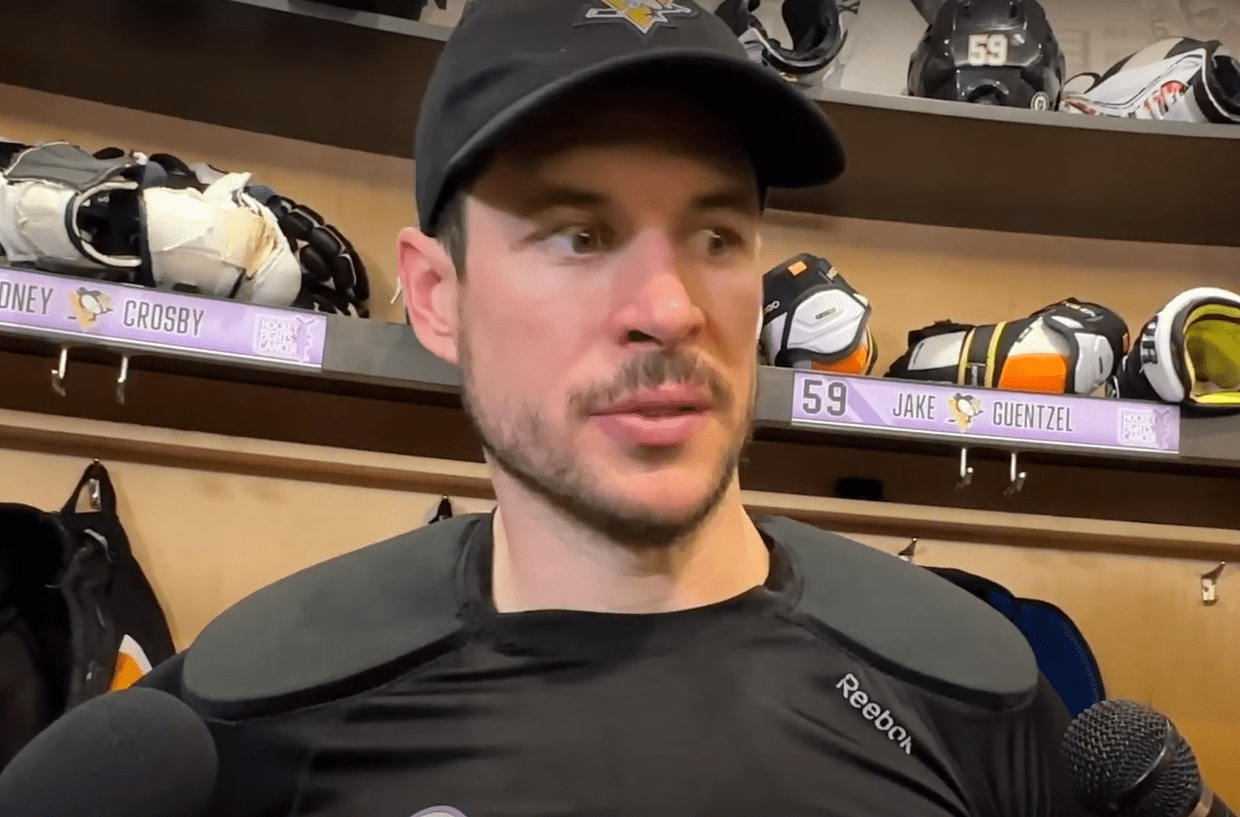 The Pittsburgh Penguins have lost six games in a row to New Jersey.
After the most recent of those defeats, 5-2 at PPG Paints Arena Thursday night, Sidney Crosby conceded that he didn't have total recall of the details of all the previous losses, but pointed out some of the qualities that make the Devils dangerous.
"They're opportunistic," he said. "You turn the puck over in the neutral zone, they've got some speedy guys and they have a good power play. Their team speed (is good) and they defend pretty well, so you have to be good in every area to beat them."
The Penguins weren't particularly good in many areas, at least after they had gotten a fairly solid start that was highlighted by a couple of odd-man breaks.
"We did the right things to get those odd-man rushes," Crosby said. "I don't think it was from taking chances or trying to force anything. We got them with good defensive play."
Although the Penguins were unable to convert either of those opportunities, they did take a 1-0 lead on the first of Bryan Rust's two goals. New Jersey countered that by scoring while shorthanded then, after Rust put the Penguins up, 2-1, early in the second period, pulled even again just 38 seconds later.
"It happens," Crosby said. "It's not ideal, but at the same time, you know they're going to push after they get scored on, and they did."
Crosby acknowledged the impact of New Jersey's team speed, but suggested many of the Penguins' problems were self-inflicted.
"We just didn't hold onto pucks enough and create enough offensive-zone time," he said. "Just didn't have the the spark that they did. They outplayed us."
Bryan Rust
The Pittsburgh Penguins held a 1-0 lead when they were awarded the first of their three power plays on this night.
It was an opportunity for the Penguins to tighten their grip on a couple of points, but they were utterly ineffective with the extra man and ended up yielding a shorthanded goal to New Jersey's Curtis Lazar while the Devils were shorthanded.
Whether that was the pivotal point in the game can be debated, but it clearly was a significant moment.
"It definitely didn't help, that's for sure," Bryan Rust said.
For better or worse, the Penguins won't have much time to dwell on the details of this defeat, since they have a challenging weekend ahead. They play at Carolina Saturday, then return home to face Vegas Sunday.
"We have to learn our lessons," Rust said. "We have to bring it every night. This isn't going to sit well with anybody. We have a huge weekend against two very good teams."
Ryan Graves
Ryan Graves spent a couple of seasons with New Jersey before signing with the Penguins as a free agent this summer, so he has a pretty good feel for the Devils' talent and intangibles.
So even though New Jersey was in a 1-4 skid and was shorthanded because of injuries to Jack Hughes, Nico Hischier and Timo Meier, Graves wasn't surprised that the Devils were extremely competitive.
"They have some big injuries, (but) they played with a lot of urgency," he said. "They played with a lot of urgency, and we kind of lacked it, I think, at times. They'd lost a few in a row, and when you're down bodies like that, you play with a lot of urgency. They had a lot of energy and they were trying to get themselves back on the right path."
The loss snapped the Pittsburgh Penguins' five-game winning streak and Graves, like coach Mike Sullivan and many of his teammates, suggested the Penguins simply didn't play well enough to earn a victory.
"The whole night, we kind of struggled a little bit," Graves said. "We just didn't have our best. But we need to find ways to win when that happens."