Dan's Daily: Karlsson Trade Gets Even Better; Anger in New Jersey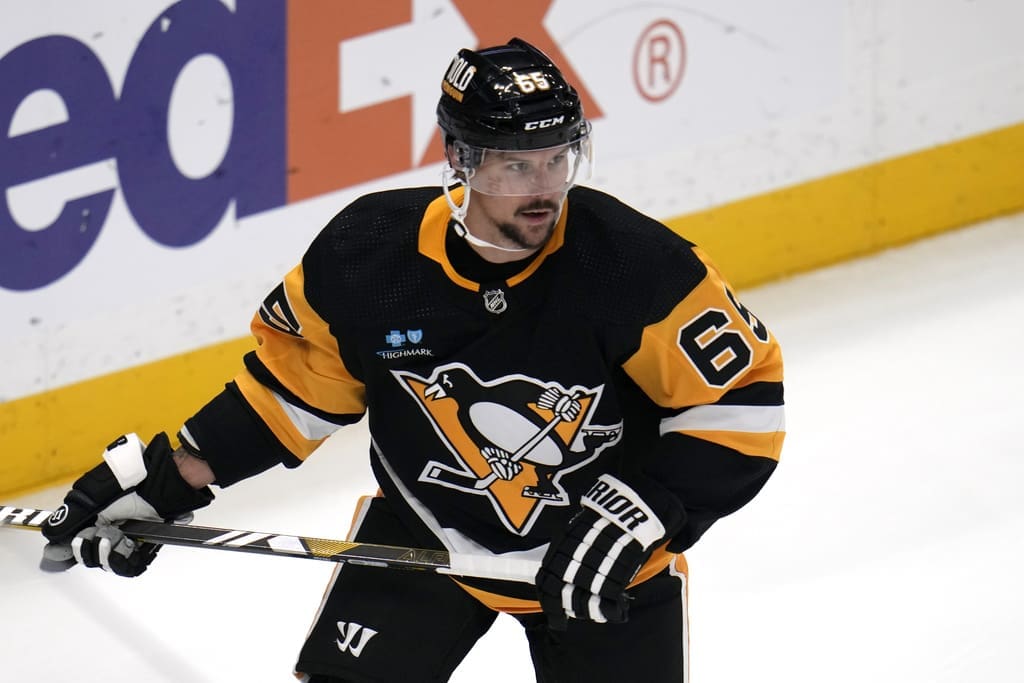 Now we're cooking with gas. The NHL season has begun, the NHL trade rumors are surprisingly hot, and the Pittsburgh Penguins trade for Erik Karlsson has elevated from amazing to figurative criminal theft by Kyle Dubas. The Penguins' bottom six is getting boxed in, while the NHL recognized Evgeni Malkin for his torrid start. The Nashville Predators are pursuing Conor Garland, and several players, including John Marino, were benched by an angry coach in New Jersey.
I'll shove off for Detroit later today, and hopefully, the ride up there goes smoother than the ride home from Washington. Generally, I'm an impatient sort, and a broken shoe lace can make me curse the heavens, but I generally expect all hell to break loose when I travel, and it doesn't bother me. Go figure.
I walked around Detroit last September before a preseason game. It seems the city is doing well in cleaning up and moving forward (I may have spent a couple of hours at the Shinola watch factory store and adjoining coffee shop). My first exposure to the city some years ago was decidedly not positive because of aggressive panhandlers trying to trip passersby or otherwise swearing at them.
If I get to Detroit at a decent hour, any suggestions for dinner?
Pittsburgh Penguins:
Pittsburgh Hockey Now: The team is off to a healthy start, but Lars Eller is getting boxed in. From Dave Molinari, the Penguins one-timers.
After six points in three games, the third star of the week is Evgeni Malkin.
We knew the Penguins trade for Erik Karlsson was a dandy. President of hockey operations/GM Kyle Dubas shipped away two onerous contracts and a couple of draft picks for the reigning Norris trophy winner. The deal looks even better for the Penguins after Jeff Petry was a healthy scratch Monday.
And if you didn't stay up until 12:30 a.m. Sunday night to see my resplendent performance on WPXI's Final Word, which critics are calling the smash hit of the season and Oscar-worthy, you can check out the show today. We got into the "Fire Canada" chants at Penguins games and the best things about the early Penguins season.
Steelers Now:
After a pretty good game against the Ravens, Mike Tomlin may bench first-round pick Broderick Jones.
At least one NFL analyst advocates the Steelers trade Najee Harris.
Pittsburgh Baseball Now:
Get this — It seems the Fenway Sports Group needs a Red Sox head of baseball ops and might hire former Pirates GM Neal Huntington.
John Perrotto writes that Ben Cherrington has no regrets about his first major Pirates decision.
Join the countdown on the top 30 Pirates prospects.
NHL Trade Talk, News & National Hockey Now:
Nashville Hockey Now: The NHL trade chatter is moving quickly. Conor Garland has permission to speak with teams to facilitate a trade out of Vancouver, and the Nashville Predators are interested.
New Jersey Hockey Now: Coach Lindy Ruff wasn't a happy camper, and he let a few of his key players know it by sitting on the bench with him for most of the third period. Timo Meier and John Marino got lots of pine time in the New Jersey Devils' loss to Florida.
Carolina Hockey Now: The Hurricanes would like to, but probably can't, keep their blue line together. They reportedly offered Brett Pesce an extension between $4 and-5 million.
Washington Hockey Now: Oh boy, those Calgary Flames. They blew a lead against the Penguins on Saturday. Now, Monday, they squandered a two-goal lead over the Washington Capitals. Coach Spencer Carberry was pretty happy with the Capitals' comeback win. Go inside the room for the Capitals quotables.
TSN: Seattle Kraken winger Brandon Tanev is out for weeks with a lower-body injury.
Detroit Hockey Now: Fight! I'm not sure what Klim Kostin was thinking, but he dropped the gloves and went toe-to-toe with Erik Gudbranson. Yikes. Check it out–the Detroit Red Wings forward has guts.
Since the Penguins face Detroit tomorrow–here's a relevant Red Wings story. Can the increased shot volume (they're shooting from everywhere) lead to increased Red Wings wins?