Poulin, Wagner Stand Out in Penguins' Spirited OT Defeat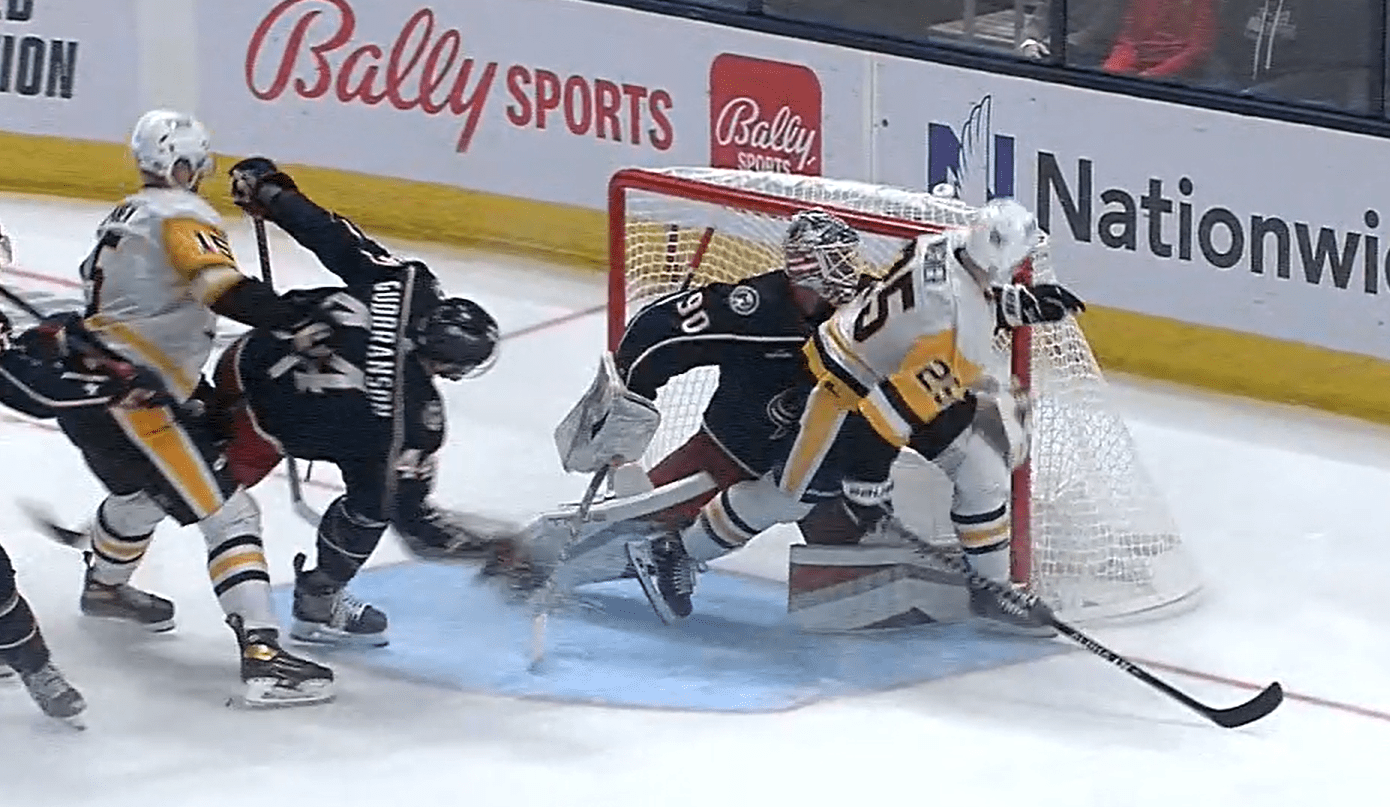 COLUMBUS, Ohio — The Pittsburgh Penguins sent a 21-man roster to Nationwide Arena for the nightcap of their home-and-away exhibition doubleheader with Columbus Sunday night.
It's entirely possible that none of those guys will be in the lineup when the Penguins open the regular season Oct. 10 against Chicago.
Oh, there were a few candidates to still be around then — guys like forwards Sam Poulin and Vinnie Hinostroza, Rem Pitlick and Colin White, as well as defensemen Ty Smith and Mark Pysyk — but none are guaranteed a spot at the moment.
The Blue Jackets, meanwhile, countered with a group studded with the established likes of Johnny Gaudreau, Boone Jenner, Patrik Laine, Zach Werenski, Damon Severson, Erik Gudbranson, Elvis Merzlikins and celebrated rookie Adam Fantilli.
The general disparity in talent might have been illustrated best by the makeup of the respective top power plays. Columbus sent out Gaudreau, Jenner, Laine, Werenski and Fantilli when they were awarded a man-advantage; the Pittsburgh Penguins countered with Hinostroza, Poulin, Pitlick, Smith and Valtteri Puustinen when they got the extra man.
On paper, then, it had the makings of a competition rivaling that of a flying insect who slams into the windshield of a speeding 18-wheeler.
On the ice, it wasn't nearly that lopsided.
For while the Blue Jackets had a decided edge in experience and talent, the Penguins battled them on even terms for the entire night.
"What stood out for me tonight was our group," said associate coach Todd Reirden, who ran the Penguins' bench. "Coming on the road with a little bit of a different lineup than they had, I just thought the compete was really there for our guys."
The Penguins actually limited the damage done by the Blue Jackets' best players — Fantilli had two assists and Laine one — but ultimately were done in by a couple of lesser lights.
Carson Meyer, who has played in a total of 27 NHL games, scored the second and third Columbus goals and Jordan Dumais, a non-factor throughout the game, got the game-winner in the Blue Jackets' 4-3 victory when he beat goalie Taylor Gauthier at 2:47 of overtime.
Sam Poulin, who centered a line for Rem Pitlick and Avery Hayes, probably was the Penguins' best player.
He scored their second goal, beating goalie Elvis Merzlikins from the bottom of the right circle, and nearly scored what could have become a game-winner from the same spot late in the third period.
He also won seven of his 14 faceoffs, a performance bested only by Jonathan Gruden going 4-1 on draws.
Poulin remains a long shot to start the season in the NHL, but is making a spirited run at a job there.
Although he deflected a question about whether he's making a strong case to stick with the parent club — "I just try to focus on myself and what I can do," he said. "I I do the right things, maybe my chance is going to come." — Poulin's work against Columbus was more evidence that he's capable of being a regular at this level.
"Sam continues to grow from what he went through last year, not playing a lot of hockey," Reirden said. "It's been a journey back for him, and I'm happy to see him doing well and taking advantage of some opportunities. He had some really good chances there at the end. He's obviously a really exciting prospect for us."
The Pittsburgh Penguins also got a strong effort from winger Austin Wagner, who scored the most spectacular goal of the game, charging to the Columbus net before one-handing a shot that caromed off Merzlikins' stick and into the net.
"I was trying to play my game by moving my feet, trying to use my size (6-foot-1, 194 pounds) and my body to get inside position," Wagner said. "Fortunately enough, it found its way in."
The effort he made throughout the game did not go unnoticed.
"Wagner is a guy who was a factor for me, with his speed," Reirden said. "We're looking for people who bring certain elements that are difference-makers to our group. We want to get faster, and certainly, I thought he was a guy who showed that tonight."
This game was the high point of his performance in this camp, as he had done little to get noticed during the practices and scrimmages that preceded it.
"It's a little curve," he said. "It's a new situation for me, but that's no excuse. I thought today was a step in the right direction."
So did Reirden.
"His game is a puck-pursuit game," he said. "A lot of times in intra-squad scrimmages and stuff, you don't necessarily … the flow of it is a little bit different. So when we got into a situation like this, I know his speed is well above average, per NHL standards, and he can create from that."