Dan's Daily: Penguins Trade; Marc-Andre Fleury Huge Night in Montreal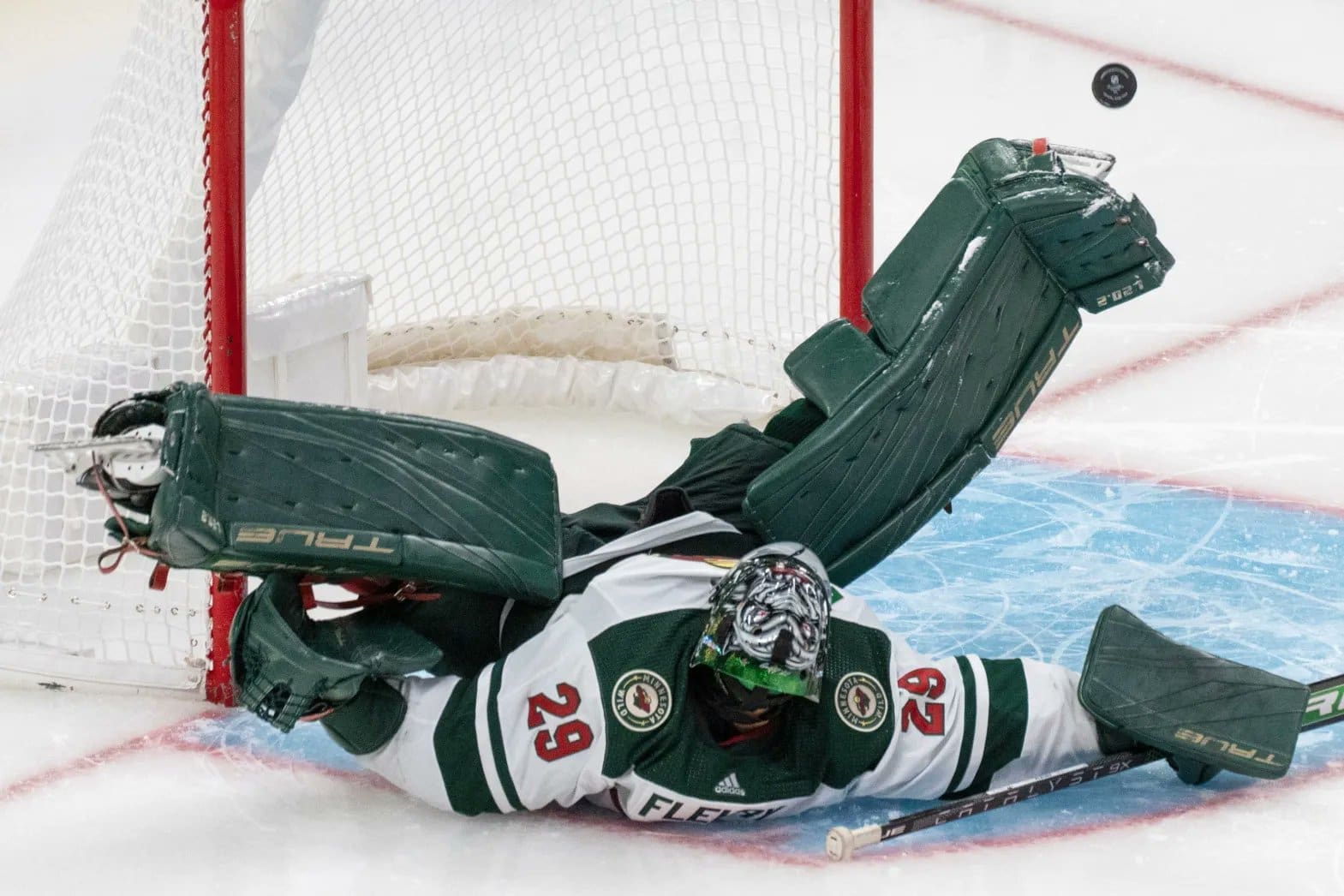 DETROIT — The last couple of days have been magically delicious for hockey news. The Pittsburgh Penguins' trade on Tuesday won't change the team, but it could give Mark Friedman a last chance at a full-time NHL career. Marc-Andre Fleury was spectacular in what could be his final start in Montreal. He made ridiculous saves, and the Canadiens fans went wild for the Wild goaltender. The fallout in New Jersey after the coach benched several veteran players. The NHL may soften its ban on political-cause nights or shows of support, like Pride tape. The Islanders earned a 14-shot shutout against Arizona, Cale Makar became the fastest defenseman to 250 points, and Sean Couturier scored his first goal in 22 months.
Oh, the things I do for this space and readers on Penguins road trips. Given the choice between a quaint French bistro with beef bourguignon, chocolate desserts, or the famous Buddy's Pizza beside Comerica Park, which specializes in Detroit-style pizza. I chose the pizza. I went with the Henry Ford: ground meat, blue cheese, tomatoes, onions, and basil.
It will be the last time I eat a Detroit-style pizza. A Twitter follower correctly pointed out it's like a 1980s Pizza Hut pan pizza. The taste is pretty good. The aftermath is a full-body assault that felt like eating a bad combination of cinder blocks and pop rocks. My Detroit food tour will continue tomorrow …
Pittsburgh Penguins:
Pittsburgh Hockey Now: The Penguins' trade won't affect the NHL roster immediately, but they did Mark Friedman a solid by moving him. The trade netted them a talented defenseman with NHL experience (but currently an AHL game). Here are the full details of the Penguins trade.
I think Rick Tocchet is a perfect head coach for Friedman, and I think this is his chance. He can't get mad or impatient, but he must bring all phases of his game when given the chance. It wasn't going to work with the Penguins.
Last week, the Penguins released Libor Hajek from his professional tryout agreement. Tuesday, they signed him to an AHL deal to play for the WBS Penguins.
OK, I soft-peddled this headline a lot. The Penguins are NOT putting their best 12 forwards on the ice. After three games, it's going as expected, but there is a specific solution that involves Sam Poulin. My take on Jeff Carter, improving the roster, and the Penguins' bottom-six problem.
PHN+: Who is Reilly Smith, and are the Penguins getting what they expected? The new Penguins scoring winger.
Steelers Now:
The Steelers will poach a lanky cornerback from the Kansas City Chiefs' practice squad. Get the Steelers news.
The Steelers also waived CB Desmond King.
Why is Mike Tomlin so pissed? If you're into podcasts — like and follow Alan Saunders's podcast: Steelers Afternoon.
Pittsburgh Baseball Now:
Andrew McCutchen leads the upcoming Pirates free agents class.
NHL Trade Talk, News & National Hockey Now:
Sportsnet Vancouver: Here's the flip side of the Canucks-Penguins trade.
Fleury Fleury Fleury!
Marc Andre Fleury with a standing ovation skates out as the games 1st star in what is likely his last game in Montreal. @mnwild @AndrewBerkshire @MarcPDumont @B_Marsh92 @MapexDrummer26 pic.twitter.com/mSFQ6FMncc

— Sebastian J (He/Him) ✊🏿 (@SebJackson90) October 18, 2023
Watch this save, which also elicited Fleury chants. The Flower was on his game.
Fleury save #mnwild pic.twitter.com/z16SQqTuA2

— MN Wild Info (@mnwildsource) October 18, 2023
NYI Hockey Now: The boys didn't have to work too hard on Tuesday. Arizona squeezed just 14 shots on goal, delivering an Islanders shutout win.
Philly Hockey Now: Sean Couturier's first goal in 22 months. A dandy by Carter Hart and Morgan Frost is back in John Tortorella's dog house. The five takeaways from the Philadelphia Flyers win over Vancouver.
New Jersey Hockey Now: There is fallout from coach Lindy Ruff benching several players on Monday night. However, James Nichols opines why there's nothing to worry about for the New Jersey Devils.
TSN: A pair of heavy stories from the TSN Insiders. The former Chicago Blackhawks principals in the Brad Aldrich sexual assault scandal aren't getting back into the NHL yet, and the NHL and NHLPA are talking about easing restrictions on causes like Pride tape.
Montreal Hockey Now: There's also a fallout in Montreal after Canadiens forward Kirby Dach suffered a season-ending knee injury. What happens next for the Montreal Canadiens?
San Jose Hockey Now: Brent Burns and Erik Karlsson had a run in San Jose, but not a lot of team success together. Still, Burns said he would have welcomed his former Sharks teammate in Carolina.
Sportsnet Highlight: Connor McDavid. Just wow. Knocked to his knees, he spun, popped up, grabbed the puck, and scored a breakaway goal.